Clear . . . concise . . . correct!
When you're writing a paper, report, or presentation, you want it to do its job: communicate. You want the words to get your ideas across just as you meant them.


Editing can help your writing get the job done. A good editor will listen to you, find out what you want to say, and help you say it clearly, concisely, and correctly. Editing can:

Enhance your credibility by bringing your writing to the highest standards of spelling, punctuation, and grammar, and by catching inconsistencies before they reach your readers.


Make your writing more persuasive with clear, plain-English sentences and well-constructed paragraphs and chapters.


Make your paper easier to read through good formatting and basic document design.
Laura Goodin has been editing professionally for over 30 years, and although she is based in Melbourne, VIC (Australia), she works with clients around the world. (Her list of clients includes the World Bank, BHP Billiton, and students at universities from Australia to Belgium.) She has a passion for the written word, and for helping people say what they want to say. Laura brings unique skills to your paper or project:

Extensive experience working with non-native English speakers from different countries and cultural backgrounds.


Supportive help for people with modest writing skills.


Years of experience in training adult learners in a wide variety of areas.


Familiarity with a broad range of subjects, including literature, creative arts, engineering, social sciences, and earth sciences.


Experience in conducting and supervising original research at the postgraduate level.

Laura is ready to help with essays, theses, dissertations, reports, presentations — any project that has words!



How it works
Laura's rates are $50 (Australian) per hour for students, and $75 (Australian) per hour for non-student researchers and corporate clients. While every job is different (based on things like subject matter, the writer's level of English and writing skill, and whether the document is at the undergraduate or postgraduate level), a very rough estimate is that 1,800 words might take about one hour.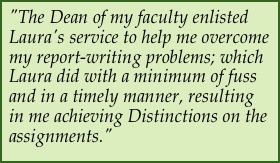 At the start of the job, Laura will look at the document and estimate the approximate cost, based on how long she thinks it may take. She will ask you for one-half that amount up front, with the rest to be paid when she finishes the job. While she is working on your job, she will stay in touch with you to let you know how it's going, ask any questions, and tell you immediately if it looks like the final cost will differ significantly from her estimate (and why).



Generally, Laura prefers to work on electronic documents, but will work on hard copy if you prefer (you supply the printout).





Express your ideas the way they deserve!
Contact Laura Goodin
info -at- lauragoodin -dot- com, or use this handy form.

Mobile/cell phone: 0432 695 505
(from outside Australia, +61 432 695 505)

Articles
Laura offers free, helpful tips for writing and researching! Click here to read them.